While starting a blog is a great way to make money online, most beginners don't know what type of blog to create. Many of you have probably wondered, what are the most popular types of blogs? 
If this is you, then you're in the right place! We've listed the 10 types of blogs that make the most money. And we've added examples to each type of blog.
Sound good? Great!
Let's get to it.
IN THIS GUIDE:
Finance Blog
Fashion Blog
Travel Blog
Marketing Blog
Health and Fitness Blog.
5 Top Money Making Blogs 
Below you'll find the 10 most popular types of blogs. Each of these types of blogs can be monetized. So hopefully, this list will inspire you to create your own money-making blogging strategy. 
1.Finance Blog 
Are you a pro at handling money? Then a finance blog might be a great choice for you.
Finance blogs give actionable advice to any online user. Whether it's a college student, young adult, or parent, everyone could gain more knowledge about their finances.
Let's take a look at a popular finance blog, Get Rich Slowly.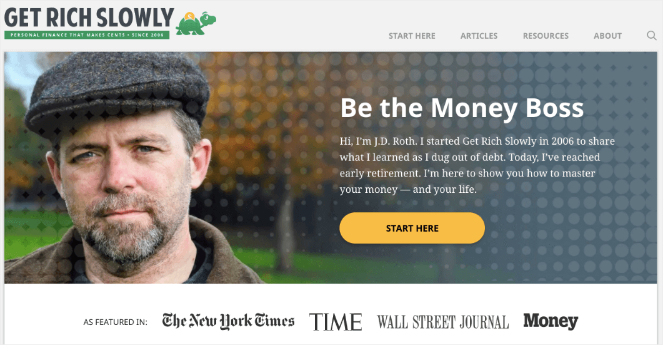 Get Rich Slowly helps their readers pay off their debt and grow their money. They also cover other finance topics, like investing and your money mindset.
As we mentioned before, finance reaches out to all different types of people, so there's an infinite amount of finance topics to cover. This means you won't get stuck on thinking of new blog posts in the long-run.
Plus, there's a ton of different finance blog niches to choose from. Some of these blog niches include:
Frugal spending
Early-retirement
Passive-income
Side-hustles
Investing
This is why finance is one of the best types of blogs that make money. It's useful for everyone, and you have an infinite amount of topics to cover.
2.Fashion Blog
Have you ever dreamed of starting your own clothing line? Start a fashion blog!
A fashion blog is a great way to express your unique sense of style through photos, clothing, and beauty products. 
But wait… fashion blogs make money? 
Of course! There are many ways to monetize a fashion blog. You can sell products, add affiliate links, and become an influencer on Instagram.
One of the most popular fashion blogs out there is We Wore What.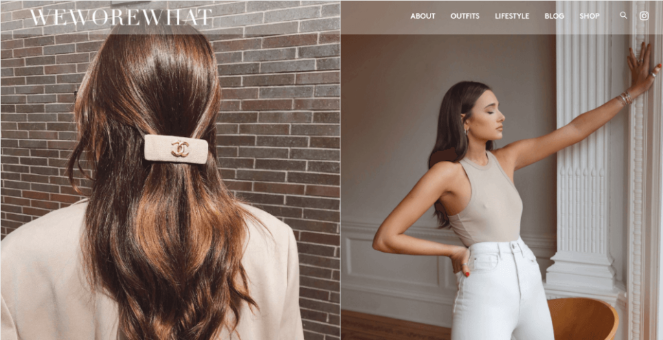 Danielle Bernstein started We Wore What to photograph her outfits across New York City. Now she sells her own swimwear and overalls. Plus, she has over 2 million followers on Instagram.
With that said, we suggest using Instagram along with your fashion blog. It's another way to showcase your photos to your audience. You might want to check out our guide on using Instagram as a blogger. 
Some fashion blog niches you can write about are:
DIY fashion
Affordable fashion
Fashion reviews
Fashion for a particular event (ie. Weddings)
Eco-friendly fashion
3.Travel Blog
When most people think about traveling, they imagine the Eiffel Tower, Patagonia, or Cancun. But what about the logistics, like planning and budgeting? Wouldn't it be nice if someone could plan it all for you?
With a travel blog, there is! Travel blogs are an invaluable resource to help anyone plan the trip of their dreams. They teach readers how to plan a trip, what destinations to visit, and how to budget wisely.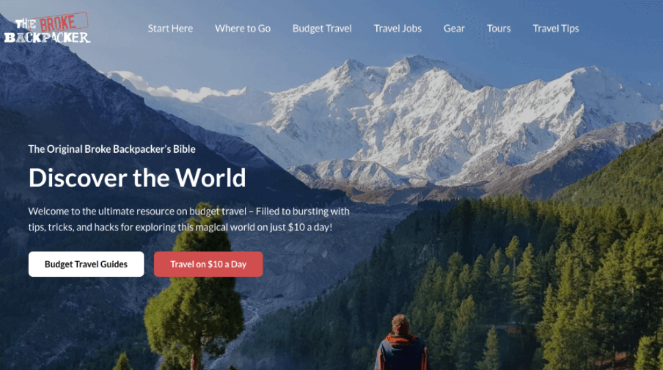 Will Hatton, the owner of The Broke Backpacker, helps his reader's travel on a tight budget. And by a tight budget, we mean less than 10 dollars a day! 
So how do travel blogs make money?
Affiliate links are a popular way to monetize a travel blog. The Broke Backpacker, for example, uses affiliate links to promote travel gear.
You could also sell your own services, like Will. Along with his travel guides, he helps his readers work as they travel.
And even if you don't travel internationally, you can still start a travel blog! Some other travel blog niches you can write about are:
Traveling in your country
Road trips
Camping
Traveling on a budget
How to travel and work at the same time
4.Marketing Blog
One of the best types of blogs that make money is a marketing blog.
A marketing blog helps readers learn and monetize online marketing skills to start a business. A lot of marketing blogs cover blogging, email marketing, eCommerce marketing, and SEO.
We consider Blog Tyrant as a marketing blog! Our website is full of marketing resources for bloggers and small businesses.
Another example of a marketing blog is WPBeginner.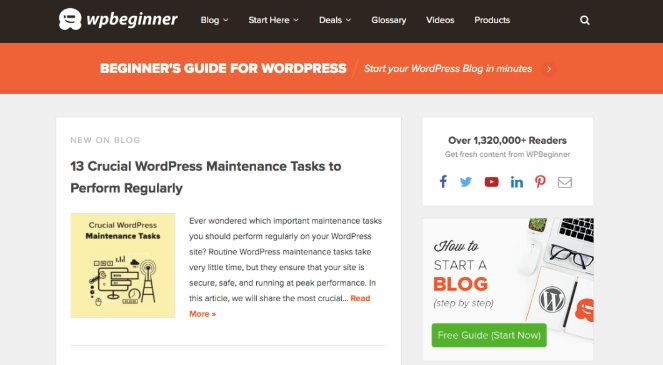 WPBeginner is the most popular blog for anything WordPress-related. They help their readers build and monetize their WordPress site for blogging and eCommerce shops.
Marketing blogs are useful for anyone who wants to make money online. And it's a great way to become an authoritative source.
With that said, there are so many marketing strategies out there. So we suggest narrowing down a specific niche. This is the best way to get more traffic and gain authority.
Look at WPBeginner. They narrowed their niche to WordPress, and now they're the most popular resource for WordPress. 
Other marketing blog niches you can write about are:
Small business marketing
Marketing yourself as a [insert profession here]
Business news and trends
How to build an online business in [insert profession here]
Digital marketing strategies (SEO, email marketing, website analytics)
5.Health and Fitness Blog
Are you into living a healthy lifestyle? Then a health and fitness blog might be for you.
A health and fitness blog is great because everyone can relate to it. Whether it's nutrition, exercise, or mental health, there's something for everyone in this blog topic.
Let's take a look at Born Fitness.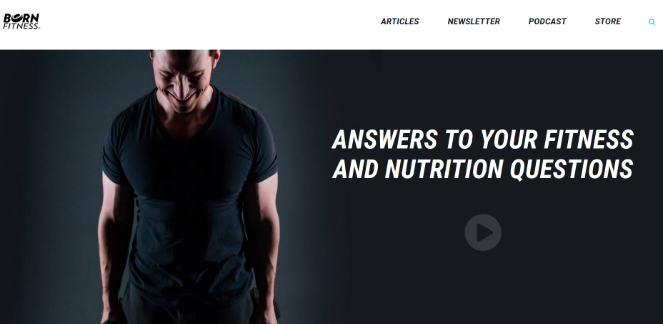 Born Fitness debunks myths and answers questions about nutrition and exercise. And they monetize their blog with health coaching.
You can also make health and fitness blogs profitable with an online course, affiliate links, and selling your own products.
But as health impacts our daily lives, make sure to build trust with your readers. The last thing a person wants is inaccurate information about a health concern. 
With that, offer educational content, like videos, podcasts, and email newsletters to connect with your audience.
Some other health and fitness blog niches are:
Body empowerment
Eating healthy on a budget
Nutrition and exercise for children
Niche workout blog (Yoga, running, weight lifting)
Mindfulness